CHiPS DVDs
Below you will find what some very nice people said about my first Clinical Hypnotism in Practice Seminar (CHiPS) on 26th March 2011.
The DVD is now available to purchase. In fact there are four DVDs and the whole thing lasts for a little over seven hours.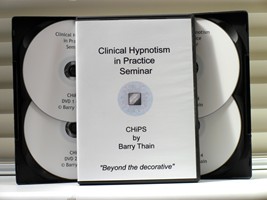 The retail price is £150.00 for the full set, but I'm making the first 50 sets available for a launch price of £98.00.
I think that's good value for money, but don't take my word for it.
Dear Barry
Thank you so much for a truly inspirational day , I can honestly say that I thoroughly enjoyed every moment, I learnt a lot .
I really liked your teaching style and your honest and open approach.
Kindest
Beverley
---
Barry thanks. You confirmed for me that true genius is something you witness. You can't teach or learn it.
Smiles :-)
Hi Barry
It was a great day yesterday, and what came across to me was how you differ from so many others that I've met. You don't affiliate yourself with one school of hypnotherapy, or one grand unified approach that's 'better' than others, there's no scripts, no official set structure, lots of improvisation...and lots of compassion and empathy etc. .etc. AND you work immediately with the subconscious.
I've learnt alot and will be changing a few things I do going forward, so I thank you for that.
Many thanks once again
Hello Barry
Thanks again for yesterday. As usual, your iconoclastic and eccentric style (they always call you "mad" until you succeed, then they call you "eccentric") is wonderful.
I must share with you a compliment that Jonathan Chase paid you. Talking to me, he said, "We are the best in the business. The only reason we are the best is because Barry doesn't teach."
A few other people paid you some warming compliments when speaking to me.
So, you've done well.
Warm wishes to you and the family,
Paddy
---
Dearest Barry,
I thank you so very much for the seminar yesterday. I took so much away with me and experienced so much whilst there.
I find your down-to-earth and unassuming yet powerful presence inspiring. Yours is the first 'gathering' that I have been to, in many years of attending seminars, workshops, talks, trainings, etc. etc. etc. as part of my personal and professional development, where I have been shown in practical ways on 'how to' apply my various trainings and skills base, in other words, your presentation on methods of work. It is what was the missing key for me.
Anyway, Barry, once again, a huge and humongous and heart-felt 'thank you' for gifting me the post-session hypnotic suggestion which was for me to go out and be the best that I can be. Believe me, I will as I am definitely 'unblocked'.
With the warmest of regards and to prod your anti-mystical bent: 'With Love, Light & Gratitude'
Lorna
---
That was weird !x
What can I say? I was calm and comfortable being driven home and I was aware that my imaginary brake pedal on the passenger side had gone. Not just with Bob who of course is a taxi driver but with my hubby which is unusual although he is a safe driver also, I would normally have "driven" the journey with him ... if you know what I mean.
There is a lot of stuff with me. You asked me a question with your intake to which I lied. I think you know which one. However I feel different.
Barry , Thank you so much for linking in with me, I knew you were there in my head. It was probably so tiring for you today.
You however are excellent.
Thank you for today and God bless you.
Jackie x
---
Hello Barry
Thank you for a very profitable Saturday workshop. I found your presentation informative, practical and enjoyable. It was a day and £120 (worth every penny!) very well spent. You have sharpened my focus on the activity of hypnotherapy and I now feel obliged to review my ideas on the subject.
If you were running a training course, I would enrol!
Please keep me informed of future workshop opportunities.
With every best wish and once again many thanks
Thank you Barry for an inspiring training day. You confirmed a lot of things re hypnosis that had been troubling me since I qualified in 1997. Thank you for restoring my faith in the magic. I have performed a lot of miracles using approaches which rely on spoken feedback. I now have more faith in the use of IMRs as you have given me the much needed get out with the "try a bunch of inductions" approach.
My colleague and I both hope to join in the monthly supervision sessions when we can make it.
May have to change my website now!
Many thanks
Barry's seminar was honest, passionate, compassionate, and truly a day of learning that every hypnotherapist should see. When the DVD is available I would recommend that it becomes compulsory viewing.
Jane
---
Finally back in France,
Will write later, for the moment, I think this little ditty expresses my feelings and those of those who had the opportunity to share your experiences, humanity, sincerity, spirituality and a totally aligned bullshit meter.
Thanks a billion for being so forthright and honest.
As the girls I informed about the course have each said, you provided within one day, everything that they should have been presented with during their initial trainings but nobody ever bothered or even knew how to do so.
You've proved an inspiration to so many who had become frustrated, tired and burnt out with antiquated systems which simply didn't and haven't provided all of the superficial hype and ego wanking that came forth from bar stools at the front of training rooms.
I'll write later, at the moment, I'm rather pooped and need to head back to bed.
Above all thanks for just being you.
Stéf
---
Hi Barry
Thanks for the material.
I enjoyed the day and found it to be a very useful experience.
As a result of the seminar, following your model, I've managed to secure Group Relaxation sessions at the School of Social Policy at Birmingham University.
I also used your wrist lift on my 2 clients today, worked both times within 30 or so seconds.
I'm also amending some of my FAQs.
Many thanks and
Best Wishes
Bryan
---
Hi Barry
If I may I would like to share this experience with you....Its a credit to the great training day you gave.
I am sure many people go to a training, think it is great and just keep on doing what they are already doing, probably just because to change and try something new could leave them embarrassed.... Which has been me too in the past.
I did a hypnosis course many years ago in Brighton , that in hindsight was not very good at all, it touched on IMR but briefly, I had never used them before; however on Saturday, I had two client appointments. 1, for eating control and 2, for what she described as 'night terrors' Both were S2.
I was amazed as how easy and how well it went - the proof is in the follow up of course; however I feel I have new and very powerful tool to use.
With the best of regards
Hi Barry
I had a first session this morning with someone who has recently been made redundant and who's anxiety about money was paralysing him from building his own business. I did the eye fixation, hand catalepsy, then hand moving to face and installed IMRs ridiculously fast (I was taught by a master a week ago - do you know him?). I negotiated with the subconscious which agreed to let go of the crippling anxiety and let him concentrate on building his business using money as a tool whilst retaining a healthy concern about money. He left with a spring in his step.
Thank you for giving me the magic back!
---
This was the agenda for the day. It will give you some idea of what the DVD includes. Apart from the live case history and real first session, there's a live demonstration of squirreling and many other original protocols.
Clinical Hypnotism in Practice
An Anatomy of Clinical Hypnotism
from Before the Initial Enquiry
to the End of Session One
The purpose of this seminar is to demonstrate hypnotic techniques in a clinical context. This is not an exercise in telling anyone what they should do. It is simply me, Barry Thain, explaining how I do what I do, and why.
Outline
1) How I Got Into This
a) And why my experience might be a bit different
2) Why Patients Seek Hypnotherapy
a) Expectations
b) FAQs
3) About Hypnotherapy
a) Neurological architecture
b) Hypnotizability
i) Intelligence, belief, desire, personality type, resistance
ii) Research
(1) Stanford and Harvard Scales
c) Hypnotherapeutic Continuum
i) Relagzation to Clinical Hypnotism
ii) HypnotheraPie Chart
4) Methods of Work
i) Times
ii) Fees
(a) Basis of charging
(b) Cancellations
(c) Getting paid
iii) Stationery
(1) Initial Enquiry
(2) Appointment Confirmation
(3) Map
(4) Case History
(5) Session record
(6) IMR Chart
iv) Nomenclature
(1) Hypnotee, E/Unduction, Hypnologist (Hypnovice), S1
5) Managing the Initial Enquiry
i) Phone
ii) E-mail
iii) Appointment times
iv) Fees
v) Information gathering
(a) Shoe size
6) Pre-Appointment Activity
i) Appointment Confirmation
ii) Map
iii) Preparation
iv) GP Consent
7) First Session (S1)
i) Arrival
ii) Case History
(a) Intake forms
(b) Treat the person, not the problem
iii) Couch time
(a) Canards
1. Pretalk
2. No Set (and other options)
3. Analytical types
4. Sensory modalities
5. Fears
a. Of hypnosis
i. Losing Control
b. Of the hypnotist
6. On Waking
a. "How do I know?"
(b) For hypnovices
1. Rapids
a. Bunch of inductions
b. Wrist lift
c. Fingers
2. Appreciate Yourself
(inc. Group Hypnotherapy)
(c) For hypnologists
1. Rapids
a. Hemispecific IMRs
b. Elman
2. Testing
3. Various deepeners
a. Competition
i. Through Zero
ii. Garage
iii. Deep, deeper, deepest
4. Hemispecific IMRs
a. Let the subc choose
b. Both IMRs in same hand
c. Spontaneous secondary IMRs
d. IMF (Ideomotor feet)
5. IMT
a. When
b. How
6. Intervention
a. Improvise
b. Props
c. Touching
d. Trust your subc
e. Staples
i. 1066
ii. Poison Arrow
iii. Ruler
iv. Football, Tennis Ball, Golf Ball
v. Hypnojections – Trepanolol, Botox
vi. Hypnosurgery – Gastric Band, Angioplasty
vii. (Why one is good therapy and one might not be)
(d) Abreactions
(i) Perfectly OK to feel whatever you're feeling
(ii) Safe place
(iii) Why I don't use either of the above
(e) Eduction
(i) COPE
(f) Homework
(i) FMD
(g) Self Hypnosis
(i) No such thing
(ii) Squirreling
(h) Book next session
(i) Next week
All that for £150 (or £98, if you are quick).